Welcome to The Farmer's Daughter Market in Tecumseh, Oklahoma! We are a unique dining and shopping destination, playing host to regulars, locals and tourists with an inviting, family-friendly atmosphere and delicious food, just the way Grandma used to make.
Whether you're meeting a friend for morning coffee or dessert, filling up with a homemade meal on your lunch break or want to bring some delicious food to your next family gathering, we have just what you need. Come see us today – we look forward to serving you!
We're more than a restaurant
Since 2019, Jim and Deann Smith have continued the tradition of providing homemade meals made with love at The Farmer's Daughter Market. Much like the kitchen in a family home, we don't limit our menu to just one type of cooking.
We offer everything from breakfast items to a large selection of fresh salads, sandwiches and in-house smoked barbecue to satisfy everyone's cravings. When you're done, finish with a scratch-made dessert — and don't forget to take some home for later!
Before you head home, take a look around our unique Farmhouse Store for special items you won't find anywhere else. At our Takery, you'll get just what you need to have a delicious meal at home — without all the work.
Home-cooked meals freshly prepared
just for you
No matter what you choose off the menu, we know you'll feel the love you only get from a homemade meal. Start your day off right with a full breakfast off our Cackleberry menu, with classics like biscuits and gravy, eggs your way and pancakes.
Our main menu from our Tomato Patch Café features a variety of customer favorite sandwiches, salads and comfort foods like chicken and dumplings with cornbread and tomato pie. Have a hankering for some barbecue? Choose from our full Pickles & Pigs BBQ menu, with meat like ribs, brisket, pulled pork, bologna, kielbasa and turkey smoked in-house to perfection.
Smoked meats may also be purchased by the pound. While we kept the menu items you love from years past, we've added several new ones you're sure to love as well, like our Loaded Pig sandwich, which is pulled pork topped with hot links or kielbasa and smothered in melty white queso on a large 5" bun.
Sometimes, you just don't feel like cooking at home, but you can still have a homemade meal. Stop by The Dinner Bell Takery to grab a premade casserole, soup, entrée, side and dessert the whole family is sure to love.
Pick up delicious favorites like our chicken spaghetti, tuna salad and ham salad. We also have a wide variety of desserts to choose from including homemade apple pie, cherry pie, peanut butter pie, cookies, cakes from Caroline's Cakes, fresh fudge made in-house and more.
You can also order specific desserts for holiday celebrations, like fresh-baked pumpkin pie. Have a special event coming up? The Farmer's Daughter Market also offers catering services; give us a call to discuss your needs today!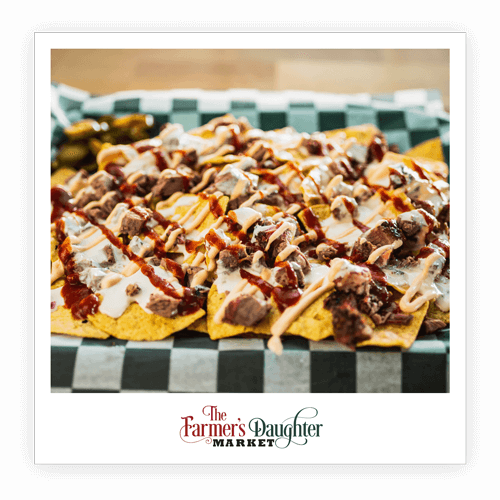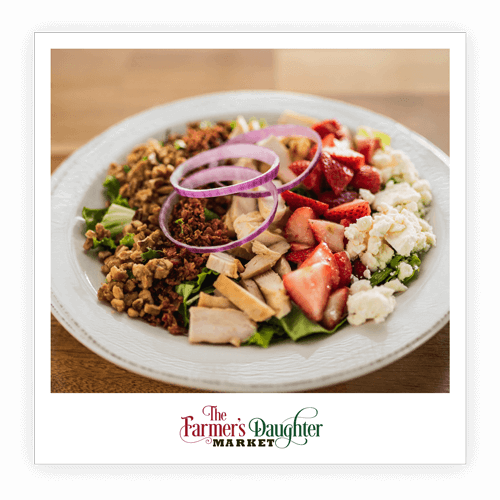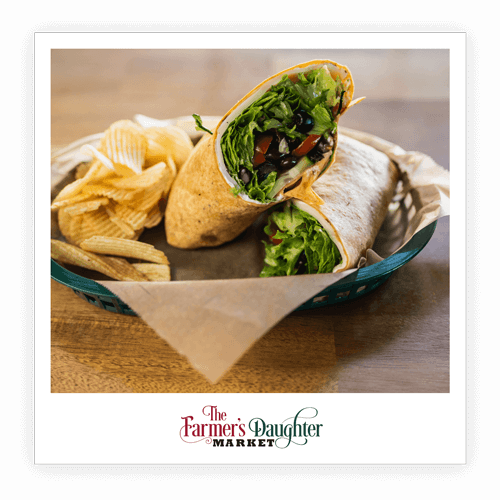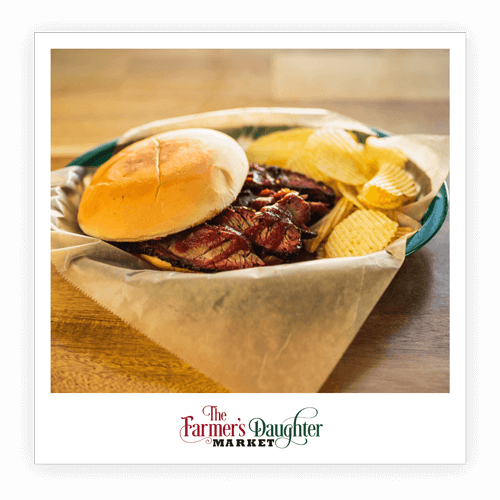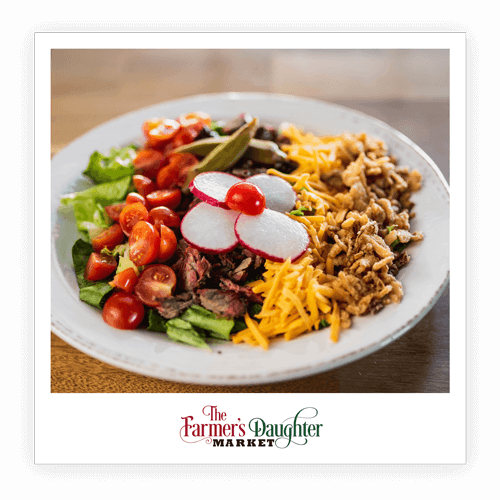 Unique antiques and more from
The Farmhouse Store
Whether you are looking for a unique gift or one-of-a-kind piece for your home, be sure to visit The Farmhouse Store. We stock a large selection of jams and jellies, pickles and more, plus some wonderful antiques from our neighbor, The Homestead Antiques & Gifts.

Site Map
Home
Our Menu
Find Us
Blog